Happy Monday! Time for an Etsy Giveaway to make your Monday just a little bit less Monday-ish! I am so excited to be teaming up with Kate The Almost Great and some other wonderful bloggers to be able to give away $50 in Etsy $$$$! Etsy is one of my favorite places to shop! It is so great to be able to support so many small business owners through online purchases! I actually have a post about one of my favorite Etsy shops that you can read about here!
This is my first giveaway on Collectively Caitlin! And don't you worry! This is the first of many! I love giveaways and do about 1 every month on my Facebook page! But I assure you that blog giveaways will become a regular thing! But you probably should still be following me on Facebook to keep any eye out for those other giveaways!
Also: I want to hear all about your favorite Etsy shops! Or if you run an etsy shop please let me know! I would love to write a review for you! Collectively Caitlin is all about supporting small businesses! So leave a comment below or shoot me an email at caitlin@collectivelycaitlin.com so I can review your favorite shop or your own!
Enter as many times as you can and share with your friends! I am so excited!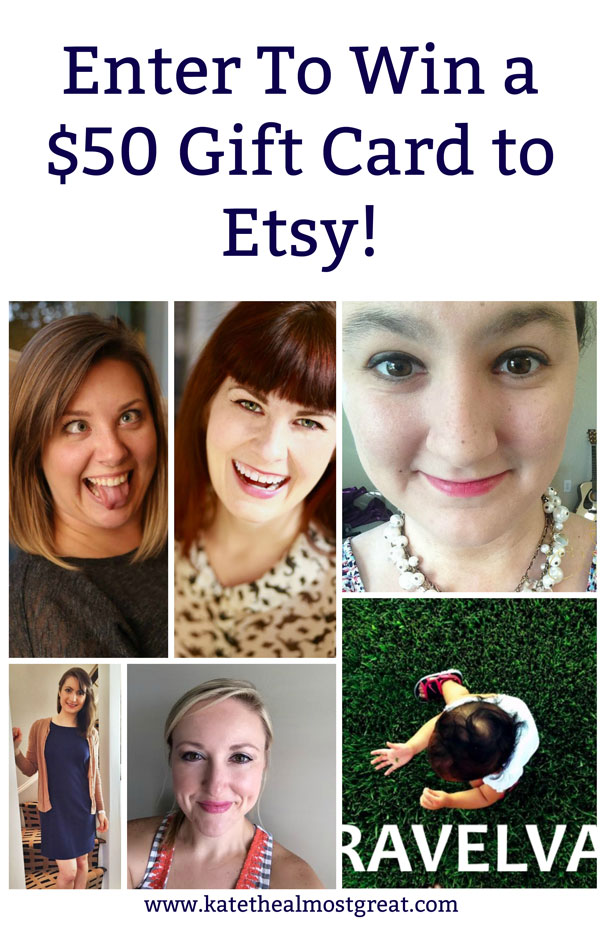 Kate the (Almost) Great | Bourbon, Lipstick, and Stilettos | Travelvan | Rhyme & Ribbons | Hey, It's Kate | Collectively Caitlin
We're giving away a $50 Etsy gift card! This contest is only open to the US (sorry!) and you must be over the age of 18. The giveaway begins 4/18/2016 at 12:00 AM and ends at 4/24/2016 at 11:59 PM. If you lie in your entries, you will be disqualified. The winner will be chosen within 48 hours of the giveaway ending; once they are chosen, they have 48 hours to reply to the email they'll receive to confirm their win. Good luck!
What is your favorite Etsy shop? What would be your dream giveaway item? Did you enter to win?